THE MAGIC MUMBLE JUMBLE
The eight piece band share more than these deep experiences: the sound of their unique blend of jazz, pop, indie and folk, as well as the ability to translate their sense of connection to any audience. With his charismatic stage presence and live-to-love attitude, bandleader Paul Istance is on a mission to make the shows a magic experience, in which the gap between audience and band disappears completely. Armed with their eight singing voices, horns, a cello, percussion, electric and acoustic guitars as well as a huge amount of positive energy, THE MAGIC MUMBLE JUMBLE sets out to include all the people they encounter in their journey on the road to freedom.
Since its founding, the band has released several singles of which the song "Home" was featured on a Sony Compilation in 2015. These releases were followed by their live debut album "The Magic Mumble Jumble" in 2016 – an outstanding live recording the band made in the Netherlands together with more than 60 musicians. Due to great sales it has had to be reproduced several times. In the autumn of 2017 they released their successful EP "We All Want Sunshine'' and gave birth to their second album "Show your Love" in November 2018. The band recorded that album together with producer Tom Gelissen (Ennio Morricone, Woodkid, Armin van Buuren). Featuring the heartfelt and emotional title track 'Show Your Love', the highly personal 'Wish I Knew' and the anthemic 'Heyla Sheyla', the second show takes you through a wide range of musical highlights.
In 2019 the band will tour a powerful new live show that combines first and second album 'best of-s' with brand new songs, that no one has ever heard before. The show features a band that has grown tighter and more mature throughout the years and lead singer Paul Istance fully displays his ability to create a moving connection with the audience. Further the rumor goes around that three band members have picked up trombones to reinforce the epic new live show.
VAYY
Laat je meevoeren naar een wereld van duistere schoonheid door VAYY en haar band. De Zwitsers-Amerikaanse singer-songwriter & danseres heeft in Los Angeles haar basis gelegd en brengt nu in Nederland haar filmische muziek en betoverende bewegingen samen tot een sferische live performance.
VELVET RADIO
HITS VAN NU IN EEN JASJE VAN TOEN



Waan je even in de jaren 30.
Geheel in stijl brengt Velvet Radio de leukste hits van het heden, op een manier van het verleden.
Afkomstig van verschillende conservatoria in Nederland, vertaalt deze frisse en vakkundige band hun kijk op de vintage invloeden van 1920-1950 in een veelzijdige en sfeervolle show.
Wat kun je verwachten? De perfecte combinatie van moderne hits, met de elegantie van vroeger.
A Place No One Gets Hurt
A Place No One Gets Hurt is het eerste soloproject van Judith Wesselius. De nummers beschrijven het veelzijdige proces van liefdesverdriet. Bij (bijna) iedereen bekend: het onvermogen om het verdriet, de woede maar ook de verwondering en ontroering te uiten waar je mee rondloopt. Alle facetten van liefdesverdriet komen samen op dit album.
Zang: Judith Wesselius, Yara Burger, Stephanie Yavelow
Piano / synthesizer: Joshua Aaron
Contrabas: Robin van Baaren
COMING SOON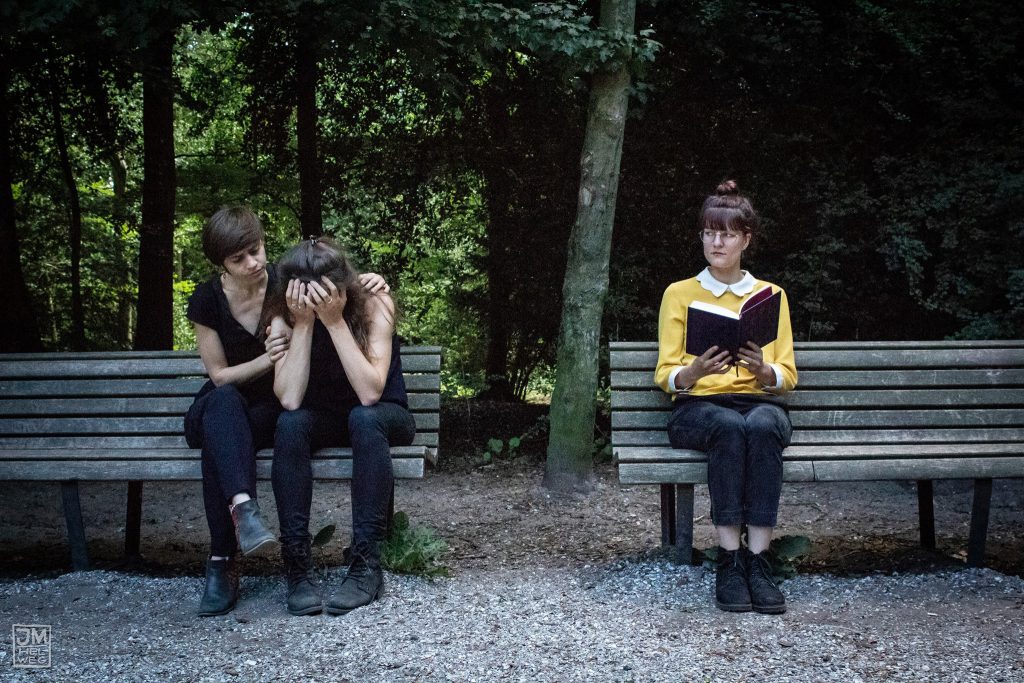 The Family XL is het grote broertje van The Family. In 2015 bedacht Xander Hubrecht dat hij weer met zijn eigen werk op het podium wou staan. Hij startte een project, genaamd 'Project XL' , en trad hier maandelijks mee op in de Jopenkerk in Haarlem. Hier kon hij experimenteren met zijn eigen songs met behulp van de vele muzikanten die hij in de in de voorbije jaren heeft leren kennen.
Zo is The Family XL geboren. Een overwegend Haarlems gezelschap.
Het grote verschil tussen The Family en The Family XL is vooral het repertoire. Waar de kleine variant voornamelijk bestaand repertoire speelt, houdt The Family XL zich dus alleen met nieuw, eigen werk bezig. En verder bestaat de band uiteraard uit meer muzikanten dan alleen Paul, Carlos en Xander. Een belangrijk onderdeel van de muziek van de band wordt bepaald door de 3-koppige blazer-sectie. Verder is er een extra gitarist, een toetsenist, een percussionist én twee zangeressen.